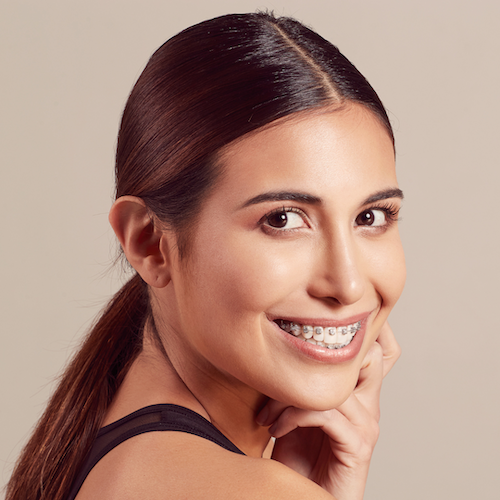 Traditional Braces
Silver-colored metal braces are the most common type of dental braces used in orthodontic therapy. These brackets are made up of a mix of stainless steel, nickel, and other metals. This makes the brackets very durable to help prevent breakage.
Traditional braces have progressed since the early days and are now lighter in weight and structure than they used to be. They are made from a high-grade stainless steel and have metal brackets that are attached to each tooth using a type of cement. The brackets are linked to each other with a thin archwire, which puts pressure on the teeth to cause them to move slowly into the correct position.
Traditional braces are a good, cost-effective option for kids, teens and adults. Because of their durability and cost-effectiveness, they are the most popular braces for kids. If you are worried that the metal will tear up your child's mouth, there is no need for concern. The metal brackets and wires used in therapy today are small and sleek, making irritation inside the mouth much less problematic than braces of the past.
Clear Aligners
Just like braces, you will need to complete an initial consultation at our office so that Dr. Heather can evaluate your smile and overall oral health to ensure that aligners are a good treatment option for you! At this consultation, we will take "before" photos and records, as well as a digital impression of your teeth that will allow us to create the custom aligners.
About every eight weeks or so, as scheduled by Dr. Heather, you'll pick up a new set of aligners to keep moving your teeth. During this time, she will monitor your progress and make any necessary adjustments to your aligners to make sure that they are working as efficiently and effectively as possible.
Aligner treatment can typically be completed in an average of 12-18 months. However, much like any form of orthodontic treatment, the treatment time will vary based on each person's needs, and how long the aligners are worn each day. Optimal results occur when the aligners are worn for 20-22 hours per day, and are generally removed only for eating and during regular brushing and flossing. During your consultation, Dr. Heather will provide you with an estimate for the length of your treatment time.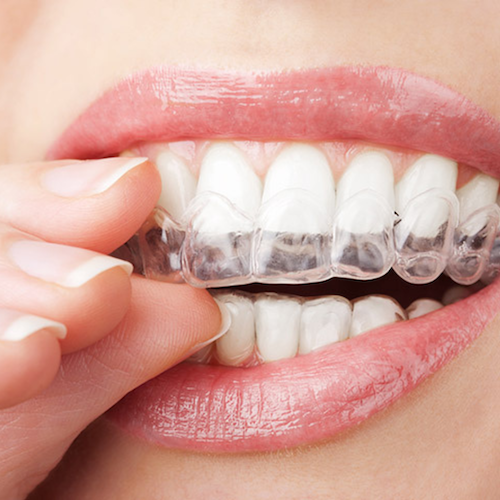 Dental Monitoring
We are thrilled to offer some of the latest dental technology in our practice with Dental Monitoring!
This virtual monitoring system allows us to track your treatment remotely and even more efficiently than before.
Dental Monitoring can reduce a patient's overall time in braces and identify problems before they worsen!
Each of our new patients is trained on how to use the DentalMonitoring mobile app and the ScanBox pro at home, so that each week, they can send in photos of their teeth and communicate with us from the comfort of home — or anywhere in the world!
Over time, patients can monitor the progress of their treatment with the photo time lapse technology that shows their teeth moving towards their goal smile.
iTero Scanner®
Advances in orthodontic technology have allowed us to more precisely diagnose and treat our patients. We have committed ourselves to staying in a leadership position in all aspects of orthodontics…allowing us to better serve you and your family.
Part of this state-of-the-art technology at Alexandria Orthodontics is the iTero scanner, which does away with having to take impressions of your teeth. This scanner allows us to create a computerized 3D image of your teeth so that we can plan your tooth movements throughout your entire treatment plan. The iTero scanner system digitally captures the contours of your teeth, providing an accurate digital orthodontic scan in just minutes.
The digital impression procedure ensures a more comfortable experience for the patient and produces a more precise scan for our doctors. What's more, the scanner uses visible light, so you won't have any exposure to radiation during the procedure.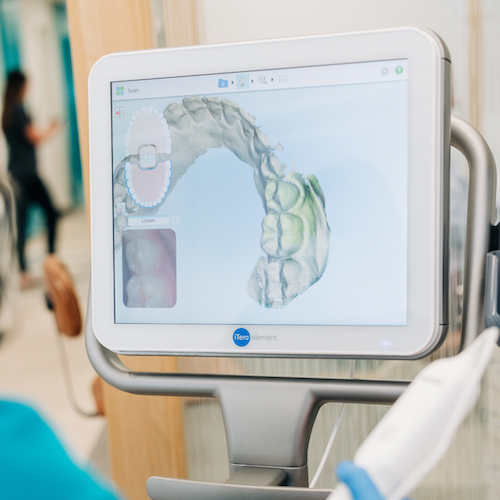 DIBS AI
Once we have taken the digital impression of your teeth with our iTero scanner, we can use a software called DIBS AI that allows us to place brackets on your teeth in the most accurate and efficient way possible, and will actually shorten treatment time!
DIBS AI creates trays that hold the bracket in the perfect spot, and makes bonding quick, easy and painless. Watch the video to learn more!
I appreciate their flexibility in scheduling appointments and quickly getting adjustments finished so we can rush to the next football or swim practice! Highly recommend.