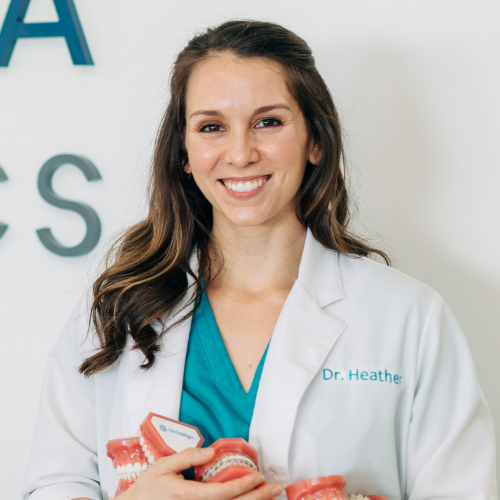 Meet Dr. Heather
Dr. Heather Badeaux Moylan is a proud Alexandria native and is thrilled to be home serving the community she loves! She graduated as co-Valedictorian of Holy Savior Menard High School and went on to attend Louisiana State University, where she received scholarships for academics, leadership, and service. Following her lifelong passion for art, she obtained her BFA in Studio Art with a concentration in Painting & Drawing, graduating Summa cum Laude. She then attended Louisiana State University School of Dentistry, graduating at the top of her class. She received the highest award given for excellence in comprehensive dentistry and was also the recipient of the Kramer Award, given to one student in the class who demonstrates scholarship, character, and the potential promise for advancement in dentistry and service to humanity.
After dental school, Dr. Heather received her orthodontic training from the prestigious Virginia Commonwealth University Orthodontic Program. There she received specialized training in orthodontics and dentofacial orthopedics as well as her master's degree in oral biology. In her residency, Dr. Heather was a member of the VCU Craniofacial Team and regularly reviewed literature for The Angle Orthodontist, one of the most prominent orthodontic journals. She is well versed in traditional braces, Invisalign, clear braces, orthognathic surgery, and craniofacial syndromes. Dr. Heather was mentored by two of the largest Invisalign providers in the nation, and she has experience treating even complex interdisciplinary cases with Invisalign.
In her free time, Dr. Heather enjoys spending time with her husband, John, daughter, Molly, and her sons, John Paul, Joe and Flip. She also enjoys their three rescue dogs, along with painting, exercising and traveling.
Every time I enter the office, I'm greeted with big smiles and friendliness from all of the employees. They truly go above and beyond to make their customers feel welcome.